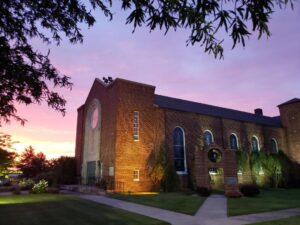 708 Seventh Street SW Cullman, AL 35055
256-739-8724
WORSHIP!
Seventh Street Baptist Church is a church where we love to worship.
Not just on Sundays, but every day of the week. Come worship the Lord with us!
Sunday School 9:30AM /Sunday Service 10:30AM
BIBLE STUDY
Seventh Street Baptist Church is a church where we love to study
the Word of God.
We believe that God's will, plan and purpose are revealed in His Word.
Wednesday Disciplelife Classes 5PM and Bible Study at 6:00PM
FELLOWSHIP
The Bible advises us to continue in fellowship with other believers. There is a reason for that! It edifies is, keeps us accountable, makes us more transparent and unplugs us from our secluded self-centered lives. We learn to share, invite-in, commune and interact with other believers.
GENEROSITY
We are givers at heart and we model that in our lives. We do not believe in creating a mega church with lots of beautiful buildings and facilities. Rather, we believe in giving back. A healthy community is ripe to hear God's Word. We invite our members to give to any of our community programs on a regular basis.
GROWTH
If you attend Living Waters and there is no spiritual growth in your life, then we did something wrong. That is why it is very important to us that you take away real life application not just spiritually, but for your family, finances and all areas of your life. God is our source of joy, and our deliverer.
Welcome to Seventh Street!
What a joy it is to introduce you to our church. We invite you to visit our worship services, our goal is to provide a place where people just like you can have a life-changing experience with God.
Whether you are a spiritual seeker who's just starting to ask questions about God or a mature Christian who desires to be a part of a body of believers who dig deeply into the Word of God, you can find a place to call home at Seventh Street Baptist.
Wherever you are in life, Jesus wants you to know Him and to have a personal relationship with Him.
Our Bible based teaching is relevant, exciting and doctrinally sound.
A church is neither the building or the pastor, it is those that follow Christ that come together- there is a place for you!
OUR PURPOSE STATEMENT: THE PURPOSE OF SEVENTH STREET BAPTIST IS TO GLORIFY GOD BY MAKING, MATURING, AND MULTIPLYING DISCIPLES OF OUR LORD JESUS IN CULLMAN AND THROUGHOUT THE WORLD.
TO VIEW PASTOR ERIC MARTIN'S SERMON CLICK ON TAB "SERMONS LIVE" AT THE TOP OF THIS PAGE. CHOOSE YOUTUBE OR FACEBOOK.
Join us Wednesday nights at 6:00 pm – Bible Studies with Pastor Eric – New Study – The Book of Romans!